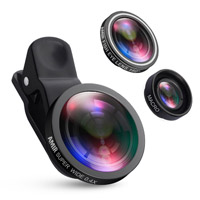 AMIR 0.4X Wide Angle Lens + 180°Fisheye Lens & 10X Macro Lens (Screwed Together), Clip on Cell Phone Lens for iPhone Camera Lens for iPhone, Samsung & other smartphones. 
For item availability, click here.
High Quality Cell Phone Lens - Made of glass, professional HD lens reduces glass flare & ghosting caused by reflections. 0.4X Super Wide Angle Lens + 180° Fisheye Lens & 10X Macro Lens
0.4X Super Wide Angle Lens - It can help largely expand the field of view and enable you capture the entire family or a whole team member into one picture. Very nice wide angle lens for iPhone 6 7 and so on.
Enhanced 10X Macro Lens - Enables you to shoot photos at a distance of 1.18-1.57in from your object. More convenient and powerful to take clear and gorgeous pictures. Capture amazing close-ups in crisp detail.
180°Fisheye Lens - 180°degree Fisheye Lens provides you incredible and dramatic rounded images, which takes you into the stunning and fantastic world. It will be your the best choice for your travel!
Wide Compatibility & Use Guide - Universal detachable clamp design, work on all popular brands and models of smartphones and tablets or anywhere you can imagine. The Macro lens and the Fisheye lens are attached together upon arrival.(NOT lens missing). When you use the Fisheye lens, please DO not detach the Fisheye lens from the Macro lens.