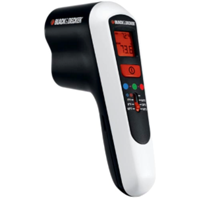 The Black + Decker TLD100 Thermal Leak Detector helps discover issues with the insulation of your home by allowing you to identify both, hot and cold draughts around the house. The light indicator shines blue to indicate cold droughts and red to indicate warm droughts allowing you to make your home more comfortable and energy efficient. 
For item availability, click here.
Heating and cooling accounts for about 50 percent of your energy usage, but the average house has enough leaks and drafts to equal a 1 sq. ft. hole. The TLD100 is an infrared sensor that finds these leaks along walls, molding, ductwork and more. Auto color change provides quick, intuitive feedback, showing users where to caulk, insulate, etc. The Black & Decker thermal leak detector helps you increase the efficiency of your home's insulation by finding leaky areas that can lead to higher heating and cooling bills. You'll instantly identify problem areas around drafty windows and doors, and uncover hidden leaks and insulation "soft spots" around your home. Check windows, ducts, and walls with the thermal reference light that indicates hot and cold spots. You can even use the detector to diagnose engine misfires or check your refrigerator and freezer settings.