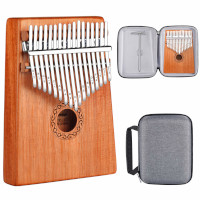 High-quality Materials: ATUP Kalimba is made of African original mahogany with 17 carbon Metal steel keys. Definitely will bring you an exquisite vocal experience with soft tone that relaxes like music box, harp. Bending design keys are more comfortable for fingers and new players.
Easy to Learn: Music book comes with in-tune kalimba. There are engraved notation in tines, making it perfect finger piano for beginners and children. Just tune, pluck, and create your own stunning melody.
International standard C tune: 1(D), 2(B), 3(G), 4(E), 5(C5), 6(A), 7(F), 8(D), 9(C4), 10(E), 11(G), 12(B), 13(D), 14(F), 15(A), 16(C6), 17(E).