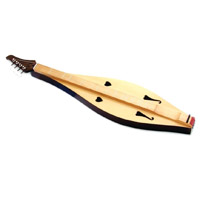 Applecreek's ACD100 Dulcimer is one of the easiest dulcimers to use on the market, due to the fact that it was made as a beginner's instrument in the string family. It was made a bit smaller for those that are just entering into the string family, and wish to learn on something that is going to stand strong, even after hours of practicing.
This dulcimer is recommended for those that wish to learn how to start playing the dulcimer, but also for those that want to play some quick songs and already know how to play the instrument.
Featuring: 6 1/2 Frets, All Wood construction - Laminated spruce top, back, and sides with Maple neck and fingerboard
Length: 31"