Science & Educational Resources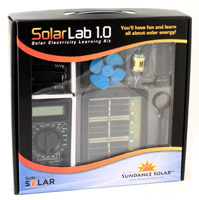 Designed to teach students ages 12+ how solar cells work and how they can be used in real electrical circuits that are simple to build. The SolarLab 1.0 contains 10 step-by-step labs in a clearly-written illustrated manual to guide you through the basics of solar electricity. You will Learn:All about solar photovoltaic electricity and the history of solar, how to build circuits to power different devices, how to use a digital multimeter to learn about voltage, current, power and resistance, adding voltage with series circuits, adding current with parallel circuits, how to build a solar battery charger and LED light.
For item availability, click here.
This binocular pillar-stand stereo microscope offers three magnification powers, 20X, 40X & 80X. It comes with a versatile illumination system that provides both incident (top) lighting and transmitted (bottom) illumination. This microscope offers high resolution and good depth within a broad field of view. It is appropriate for educational purposes in hospitals and schools. It is great for the exploration of the world of surface details and fine structures of various materials like wood, metal, solder, semiconductor and stone. It is perfect for the examination of insects, plants, rocks, stamps, coins, jewel, soldered points, microelectronic components or virtually any three dimensional objects.
For item availability, click here.
Orion 10015 StarBlast 4.5 astro reflector telescope has a stable tabletop base provides smooth altazimuth motion for easy manual tracking of celestial objects. A great compact grab-and-go telescope designed for entry-level and intermediate astronomy enthusiasts. Substantial 4.5" aperture and fast f/4 focal ratio provides bright, detailed views of solar system targets like the Moon and planets, as well as wide-field celestial objects like nebulas and star clusters
Contents: Telescope with pouch containing headlamp & Audubon guide, a laminated manual all in a rolling cart.
For item availability, click here.