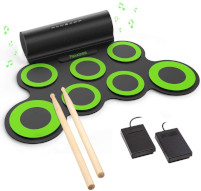 This drum set includes 1 Snare, 3 Toms, 1 Crash, 1 Ride, 1 Hi-Hat; 2 Foot Pedals for Bass Drum sounds; 5 Timbres; 8 Demo Songs; 3 Rhythms.
It's powered by a 2400mAh rechargeable battery, up to 3 hours playtime per charge. You will be able to take it with you anytime anywhere even play outside.
Headphone jack is included to make practice quieter, but electronic drums also make practicing more efficient, perfect for private practice or late night playing. High-quality built-in dual speakers bring you astonishing bass effect, no need to connect with other speakers. Standard midi out jack (5 pin jack) and USB midi out jack, you can connect the drum to computers to produce music or play games. 
For item availability, click here.  Read our Safety and Cleanliness Statement here.