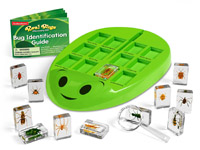 Kids get an up-close look at 12 amazing bugs—from a leaf beetle to a lantern fly! Each real specimen is permanently encased in indestructible acrylic, so kids can safely explore them from every angle. Plus, you get a fascinating fact book and handy magnifier—all in a cute storage tray with labeled compartments for each bug.  
Recommended ages: 3 and up
For item availability, click here.  Read our Safety and Cleanliness Statement here.