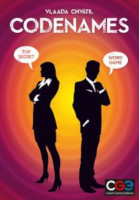 Two rival spymasters know the secret identities of 25 agents. Their teammates know the agents only by their CODENAMES. In Codenames, two teams compete to see who can make contact with all of their agents first. Spymasters give one-word clues that can point to multiple words on the board. Their teammates try to guess words of the right color while avoiding those that belong to the opposing team. And everyone wants to avoid the assassin.

Codenames: Win or lose, it's fun to figure out the clues.
Codenames: Harry Potter Work your magic as a Member of the Order of the Phoenix! Death Eaters are hot on your trail as you attempt to inform a fellow operative where there are other Members that you must contact. All of them are hidden behind pictures and word Clues that both of you can see… but in order to be discreet, only one word and one number can be spoken to describe their locations!
Codenames: Disney Family The Disney Family Edition of Codenames combines the hit social word game with some of Disney's most beloved properties from the past 90 years. Including both pictures and words, it's family fun for Disney fans of all ages. Codenames: Disney Family Edition features characters and locations from over 90 years of Disney and Pixar films.
Codenames: Marvel  Featuring characters and locations from the Marvel Universe including, Spider Man, Guardians of the Galaxy, The Avengers and Doctor Strange you work on opposing teams, S.H.I.E.L.D. and Hydra, competing to be the first to identify all of their team's 'field agents'.