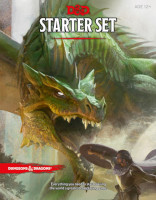 The Dungeons & Dragons Starter Set is your gateway to action-packed stories of the imagination. This box contains the essential rules of the game plus everything you need to play heroic characters on perilous adventures in worlds of fantasy. Explore subterranean labyrinths! Plunder hoards of treasure! Battle legendary monsters! Dungeons & Dragons is the world's greatest roleplaying game. Created in 1974, D&D transformed gaming culture by blending traditional fantasy with miniatures and wargaming. The main Dungeons & Dragons books are the Player's Handbook, Monster Manual, and Dungeon Master's Guide (available from Way Library).
INCLUDES:  FIVE READY-TO-PLAY CHARACTERS, SIX DICE, ONE ADVENTURE BOOK: LOST MINE OF PHANDELVER, ONE RULEBOOK, ONE SET OF CHARACTER SHEETS
For item availability, click here.