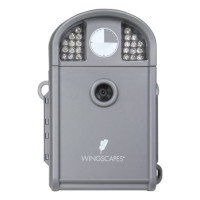 Easy to set up and even easier to use, the TimelapseCam Pro makes it simple to produce dynamic videos depicting the progress of events from flowers growing to the stages of a construction project. Perfect for Nature lovers, astronomers, budding directors and hobbyists alike, the TimelapseCam Pro automatically captures frames at regular intervals and allows you to turn them into high-definition time-lapse videos using downloadable software. A High-Resolution lens with variable focus captures subjects in fine detail while white LEDs provide ample illumination at night or in darker spaces. 
For item availability, click here. . 
White LED flash: a flash equipped with 24 white LEDs illuminates wildlife up to 25 feet away in total darkness-for maximum brightness and beautiful Images with minimal intrusion.
Photo & video resolution: manage image quality and storage with 4 resolution settings, from low (2115x1188p) to enhanced (6080x3420p), and capture 1080P HD video in 16: 9 aspect ratio. 
Exterior: a compact, rugged case with a weatherproof plastic exterior comes with standard 1/4 inch -20 bottom tripod mounts compatible with an included mounting bracket.