Home Tools
Featuring an enhanced LCD screen and illuminating Target Spotlight, the StudSensor™ Pro55 deep-scanning stud finder uses two scanning modes to find the edges of wood and metal studs and joists. Securely anchor mirrors, shelves, and cabinets while also helping to avoid live, unshielded AC electrical wiring.
For item availability, click here.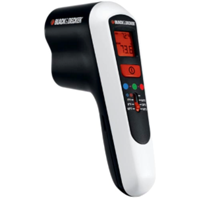 The Black + Decker TLD100 Thermal Leak Detector helps discover issues with the insulation of your home by allowing you to identify both, hot and cold draughts around the house. The light indicator shines blue to indicate cold droughts and red to indicate warm droughts allowing you to make your home more comfortable and energy efficient. 
For item availability, click here.
BR250 is a Video Borescope Inspection Camera with 9 mm camera diameter and 3.5 inch color TFT LCD Monitor. Ideal for Home Inspection (Inspect in walls for mold, insect infestation, electrical wire or water pipe location); HVAC (Inspect inside ducts, behind motors and compressors); Automotive (View inside or around engines and transmissions); Industrial (Inspect weld integrity, process equipment, gears, molding machines) applications. Detachable wireless color display can be viewed from a remote location up to 32 feet from measurement point.

For more information, see the following video from the manufacturer: Extech BR250