Musical Instruments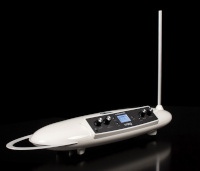 The Theremini guarantees immediate success to any player at any skill level, while providing new ways to experiment with music, education, and gestural control. Assistive pitch quantization allows each player to adjust the instrument's level of playing difficulty. Recessed in the top of the Theremini is a compact speaker perfect for private rehearsal and quick setup anywhere. Silent rehearsal is also possible via the front panel headphone jack. Simply plug in ear-buds or headphones and the built-in speaker becomes silent. For live performance and gestural control, the rear panel features two line level audio outputs, a pitch CV output with selectable range, and a mini USB jack for MIDI I/O and connectivity. 
See a demonstration video here or go the the Theremini home page to learn more here.
For item availability, click here.